AAAAAAAAAAAAAAAAAA<![if !vml]>

<![endif]>AAAAAAAAAAAAAAAAAA
<![if !supportEmptyParas]> <![endif]>
Vi nåddes av den fruktansvärda nyheten på annandagens morgon den 26 december 04. Ca 2500 döda sa de första nyheterna. Under dagen steg det befarade dödstalet och det dröjde inte länge förrän vi förstod att det var en katastrof av ofattbara mått. Själv greps jag av en fruktansvärd oro eftersom jag har vänner som brukar åka till Thailand under julsemestern. Det tog dagar innan jag fick tag i någon som visste var de var. De hade beslutat för första gången på många år, att inte åka till Thailand, utan de hade åkt till Egypten istället.
Människor över hela världen öppnade sina hjärtan och gav så mycket de kunde avvara. Välgörenhetsgalor anordnades i nästan vartenda land och pengar strömmade in till området via olika stödorganisationer. Regeringar skickade enorma summor.
*
The horrible  news reached us Boxing Day 2005  in the morning. Approximately  2500 casualties said the first news. During the day the feared death toll raised, and it didn´t take long to understand that it was a disaster of unimaginable proportions. I was caught by horrible anguish since I do have very good friends that for years have been going to Thailand over Christmas. It took days before I got in touch with someone who told me that for the first time for many years they decided to go to Egypt instead.
People all over the world opened their hearts and gave as much as they could. Charity events were arranged in nearly every country and money flowed in to the affected area via different help organisations. Governments did send enormous sums.
*
Själv ordnade jag en stödgala på Reginas i hamnen i Fuengirola. I en restaurang som normalt rymmer ca 100 lyckades mellan 150 till 200 människor tränga in sig. Jag bestämde att det skulle inte vara någon entre´ eftersom många av mina vänner lever på väldigt lite pengar; sjukpensionärer, pensionärer etc. Vi lyckades få ihop 2000 Euro den kvällen, men pengar kom in även efter den kvällen. Sammanlagt är vi nu uppe i 2215 Euro. Ingen jättesumma, men en hjälp till uppbyggandet av ett barnhem på Sri Lanka.
Man har i dagens dato hittat och identifierat ca 130 000 människor, men det riktiga talet dödsoffer kommer aldrig att bli känt. Sammanlagt tror man att ca 220 000 människor dog i denna katastrof.
Den stora uppgiften för de som överlevt är nu att bygga upp och försöka återgå till ett någorlunda normalt liv.
*
I did arrange a charity night in Reginas restaurant in the port in Fuengirola. In a restaurant who normally can take about 95-100 people between 150 to 200 push themselves in. I decided from the start not to have any entrance since I do have a lot of friends who are very short of money. We raised 2000 Euro that night, but money kept on coming in also after that night. All together now about 2215 Euro. Not a gigantic sum but the money will help to rebuild a orphanage on Sri Lanka.
Today about 130 000 people have been found and identified, but the true figures will never be known. The fear is that about 220 000 people have been killed. The big task for the survivors is to build up and try to get back to a life as normal as possible.
*
Den starkaste bild jag har är en 31-årig mor. En underbart vacker kvinna, som under stilla tårar talar om att hon förlorat hela sin familj; sin make och sina tre barn. Hon var så tacksam att hon återfunnit sin treåring på en gata i staden där hon bodde. Den lilla treåringen representerade för henne en liten tröst, hon fick ta hand om och begrava åtminstone en i sin familj. Barnet begrovs i en massgrav med 3000 andra offer.
Jag ville vara nära. Jag ville förstå, så jag hade tvn på dygnet runt de första 2 veckorna. Ändå kan vi aldrig förstå. Vi kan bara se bilderna av uttröttade, gråtande människor av olika nationaliteter som sökte efter och hoppades att åtminstone hitta kropparna av sina anhöriga.
*
The strongest picture I do have is a mother of 31 years. A wonderfully beautiful woman, that silently crying tell the journalist that she has lost her whole family; her husband and her 3 children. She was greatful though that she had found her 3-year old on a street in the town where she lived. The little 3-year old represented for her a sort of a consolation; at least she could take of and bury one of her family. The child was burred in a mass grave together with 3000 other victims.
I wanted to be close. I wanted to understand, so I let the tv run 24 hours a day the first two weeks. Yet we can NEVER understand. We can only see the pictures of weary, crying people of different nationalities searching for and hoping to find the bodies of their beloved ones.
*
Av de besökande turistländerna drabbades Sverige hårt. En bild som gör ont är den lilla Bamseklubben med ca 30 småttingar som raderades ut. En annan bild är en artikel om en liten 10-årig svenska som förlorade sin hela familj. Hon talade om för reportern att hon var så tagen av att thailändaren som räddat både henne och många andra, gav bort allt han kunde i kläder, pengar och mat. Trots att han förlorat hela sin familj hade han den styrkan.
Det fanns många hjältar i denna katastrof. Människor i alla varierande åldrar och av många olika nationaliteter som räddade andra med risk för eget liv.
Det fanns andra typer också, människor som stal barn. Människor som utnyttjade situationen, de stal smycken av de döda kropparna som flöt omkring överallt, de stal ur de hus som fortfarande stod kvar. Det fanns turister som kom tillbaka ganska snart efter katastrofen och som klagade över att stränderna var fulla av bråte. Såna är värda blott och enbart ett stort förakt. Jag saknar ord att beskriva såna personer, men dessa skrupulösa, likgiltiga och beräknande individer finns överallt, jämt. Hjärtat gråter, men vad hjälper det?
*
Of the visiting tourist countries Sweden was hit hard. A picture that really hurts is the picture of the Teddy Bear Club that contained about 30 toddlers that were wiped out by the Tsunami. Another picture is an article about a 10 year old Swedish girl who lost all her family. She told the reporter that she was moved by the Thai man who saved her and many others, gave away everything he could when it came to clothes, food and money. To have that strength although he lost all his family.
There were a lot of heroes in this disaster. People in all varying ages and of different nationalities saved other people risking their own life.
There were other kinds of people too, people who stole children. People who used the situation, they stole jewelleries from dead bodies floating around everywhere, they stole from houses that still were standing. There were tourists returning early after the disaster, complaining that the beaches were untidy and full of rubble. Those people are worth nothing but contempt. I do lack words describing that kind of people, but these scrupulous, disregarding and calculating people exist everywhere, always. The heart weeps, but what's the good of that?
*
Det viktiga nu är vårat fortsätta stöd för de drabbade. Det viktiga är också att mångas ögon öppnas för den misär som fortgår hela tiden över hela världen. Förhoppningsvis ska människor med osannolika mängder med pengar ha väckts ur sina förpuppande dvalor. Förhoppningsvis ska nu den som förut hade svårighet välja diamanthalsband till sin hund nu förstå att dessa pengar kan betyda framtiden för många andra människor som inte har något.
Det behövs många som tar sig an fadderbarn. Varför inte fadderfamiljer? Fadderbyar? Fadderbarnhem?
*
The important thing now is our continues support to the victims. Important also that many eyes are opened to the misery that continuously exist all over the world. Hopefully people with inconceivable amounts of money will be wakened up out of their pupated lethargy. Hopefully the one who before have difficulties choosing diamante collar to their pets now will understand that these money could mean the future people who have nothing.
People are needed that take sponsored children. Why not take sponsored families? Sponsored villages? Sponsored orphanages?
*  
Livet är så plötsligt. På ett ögonblick förändras verkligheten och allt fotfäste i livet försvinner.
Vi behöver varandra. Vi måste börja se varandra i den nära lilla vardagen. Vi måste börja ge varandra uppmuntran, värme och glädje. Vi måste respektera varandra, för respekterar vi inte andra kommer inte andra att respektera oss. Respekten blir en ytlig företeelse som grupper av inbördes beundrare ger varandra.
Så har det säkert skrivits av tusentals andra genom tiderna och det behöver skrivas av tusental mera, oräkneliga gånger i oändlig tid framöver.
*
Life is so sudden. In a split of a second the reality do change and all foothold in life disappear. We need each other. We have to start to see each other in the little average life. We must begin giving each other encouraging, warmth and joy. We must respect each other, if we don't nobody is going to respect us. The respect becomes a superficial phenomena that groups of internal admires do give to each other.
Words like that have been written thousands of times through ages and it need to bee written uncountable times limitless future ahead.
<![if !vml]>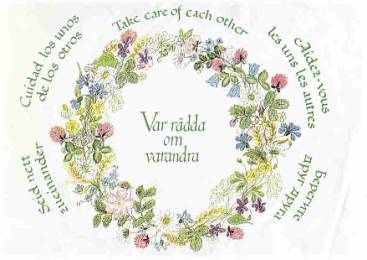 <![endif]>
<![if !supportEmptyParas]> <![endif]>
eeeeeezzzzzzzzzzzzzzzzzzffffff
Jag gjorde en ny erfarenhet i min egen stad Fuengirola i början av februari. En vän kom på besök från Sverige och ville se Fuengirola zoo. Jag tycker inte om att se djur i bur så under de17 vintrar jag varit här har jag aldrig varit där. Nu byggdes det om för ett par år sedan, och jag har hört att det är fantastiskt, men jag har trots detta inte förmått mig gå dit och se det. Nu blev det av. Jag blev mycket imponerad av hur man på en väldigt liten yta har lyckats bygga upp en liten Noaks ark mitt i Fuengirola. Närheten till djuren var fantastisk!
Uppvisningen man hade 16.30 var otrolig. Skötare tog ut mängder av olika slags djur i en liten arena, där de fick mat. Det var mäktigt att se närheten mellan skötare och djur! Det behövs mycken kärlek att bygga upp sånt förtroende! Jag fick mata en liten hjortkalv, några sekunder då livet svindlade av känslor! Se bildsviten under länken ovan! 
*
I had a new experience in my own hometown Fuengirola beginning February. A friend visited me from Sweden and wanted to see Fuengirola zoo. I don't like to see animals in cages, that's why I during the 17 winters I lived here never have been there. now it was rebuild a couple of years age, and I heard that it is fantastic, yet I have not induced myself to go there and see it. But now it did happen. I was very impressed how they in such a very small area have succeeded to build a little Noahs arch in the middle of Fuengirola. The closeness to the animals was fantastic!
The show that took place at 4.30 was unbelievable. Careers brought out a lot of different animals into a small arena, where they were fed. It was powerful to see such togetherness between carers and animals! It requires a lot of love to build up such a confidence! I got to feed a small deer, seconds when life in itself bubbled of emotions! Have a look at the pictures in the link below!
<![if !supportEmptyParas]> <![endif]>
eeeeeezzzzzzzzzzzzzzzzzzffffff
Det blev många besök efter jul. Några av mina egna Sofior från domkyrkoförsamlingen i Luleå kom ner i slutet av januari, början av februari. Vi besökte en gudstjänst i den lilla katolska församlingen St Joseph mitt i hjärtat av stan. Vi besökte Skandinaviska Turistkyrkans sånggudstjänst, en glädjekick! Vi åkte till Cadiz och hälsade på mina älskade nunnor Mary och Ana-Maria. Vi åkte upp i de kylslagna bergen och lyckades hitta några blommande mandelträd. Vi var i bergsbyn Mijas mm mm.
Jag hade lagt upp ett digert program och tjejerna gjorde det bra som hängde med i mina svängar! Det var underbart att ha dem här!
Jag hade också turen att ha vännen Petri Mäkilää som ställde sig till förfogande och skjutsade oss till Cadiz, Mijas och blommande mandelträd för bara bensinkostnaden. Fantastiskt Petri! Tack av hela vårt hjärta!
*
I had a lot of visiters after Christmas. Four ladies came end of January-beginning February from the cathedral in my hometown  We visited a mass in the little catholic congregation St Joseph in the middle of the heart of Fuengirola. We visited Scandiavian Tourist Church, a souch of joy! We went to Cadiz and visited my beloved nuns Mary and Ana-Maria. We went up in the cool  mountain and succeeded in finding some blooming almond trees. We went to the mountain village Mijas etc etc.
I had arranged a massive program and the girls did a good job coping with it! It was wonderful to have them down here! I was lucky enough to have my friend Petri Mäkilää driving us to Cadiz, Mijas and blooming almond trees for only the coast of the petrol. Fantastic Petri! We say "thank You" with all our hearts!! 
<![if !supportEmptyParas]> <![endif]>
eeeeeezzzzzzzzzzzzzzzzzzffffff
I början av februari hade vi karneval i Fuengirola. Massor med människor klädde ut sig och deltog trots att det var så kallt! Lördagkväll på kyrktorget i Fuengirola samlades de utklädda och anförvanter. De bästa maskeraddräkterna fick pris, individuell och grupp.
*
Beginning February we had carnival in Fuengirola. Lots of people participated although it was bitterly cold and raining! Saturday night  the dressed up got together on the church square in Fuengirola with families and friends. The best costumes got prizes, individual and groups.
<![if !supportEmptyParas]> <![endif]>
eeeeeezzzzzzzzzzzzzzzzzzffffff
Att bli hembjuden till lokalbefolkningen är enligt vad vissa säger inte vanligt. Jag har haft turen att under de 17 vintrar jag varit här att då och då bli hembjuden till spanska familjer. Det har alltid varit lika härligt! Att komma in i ett spanskt hem och känna gästvänligheten strömma emot en är underbart. En spansk lunch är lång! Man pratar och diskuterar allt mellan himmel och jord! Man startar alltid en kaffe medan husmor putsar av de sista detaljerna. Så kommer lunchen! Denna gång började den med en mycket matig grönsakssoppa. Efter detta en ännu matigare sallad späckfylld med nyttiga ingredienser. Till salladen serverades friterade bouqerones (småfisk). Otroligt gott! Jag har alltid gillat bougerones, men de hemgjorda var de bästa jag ätit! Rosalia, mamman i familjen, hade satt ihop tre och tre vid stjärtfenan, så dom såg ut som små solfjädrar. Jag tyckte Rosalias lunch var så god att jag presenterar den på matsidan! Prova! Den smakar alldeles utsökt!
*
To be invited to the local people is due to some people, not usual. I have been lucky enough during the 17 winters I been spending here, to be invited to Spanish families quite often. It has always been  a true pleasure! Coming into a Spanish home and feel the hospitality is wonderful. A Spanish lunch last for hours! You talk and you discuss everything between heaven and earth. It always starts up with a coffee while the housewife take care of the last details. Then the lunch comes up! This time it started with a rich soup of vegetables. After that an even more rich salad full of healthy ingredients. With the salad fresh bouqerones(small fish) were  served. incredibly good! I´ve always liked bouqerones, but must say that the homemade ones were the best I ever eaten! Rosalia, the mother in the family, had put the bouqerones  together three and three by the  tail-fin, which made them look like small fans. The lunch was so good so I  decided to publish all the dishes on the food site. Test it! It taste absolutely delicious!
<![if !supportEmptyParas]> <![endif]>
eeeeeezzzzzzzzzzzzzzzzzzffffff
Min gode vän och den varmhjärtade och fantastiska prästen Canon David Fitzgibbon gick bort i januari i år. Jag ska alltid sakna hans glada leende, hans kloka ord, hans fantastiska predikningar, hans genuina vänlighet gentemot alla människor han mötte och hans smittsamma humor.  Jag är mycket tacksam för allt stöd jag fick av honom bl a när jag startade mitt Webbmagazine 2 februari 2002. Det var han som tillsammans med svenske konsuln Stig Öberg invigde tidningen. Förutom att vi hade en fantastisk "startfest" så välsignade han webbtidningen vid ett flertal tillfällen både på det ekumeniska centret Lux Mundi och den katolska lilla kyrkan St Joseph, bägge i Feungirola.
*
My very good friend, the warm hearted and the fantastic priest Canon David Fitzgibbon past away this January. I will always miss hans happy smile, his wise words, his fantastic sermons, his genuine kindness towards all people he met and his contagious humour. I am very greateful for all support he gave me when I started up my Webmagazine 2nd of February 2002. He opened the magazine together with the Swedish consul Stig Öberg. Apart from that we had a fantastic "strat-up-party" he blessed the webmagazine at several occasions both in the ecumenical centre Lux Mudi and in the little catholic church St Joseph, both located in Fuengirola.
<![if !supportEmptyParas]> <![endif]>
<![if !vml]>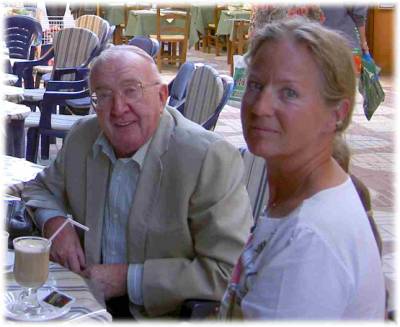 <![endif]>
Canon David Fitzgibbon och webbredaktören Bambi maj 2003.
/ Canon David Fitzgibbon and the web editor Bambi May 2003.
<![if !supportEmptyParas]> <![endif]>
<![if !supportEmptyParas]> <![endif]>
eeeeeezzzzzzzzzzzzzzzzzzffffff
Det är inte mycket nytt denna omgång, kanske frös ideerna till lite i den stränga kylan denna vinter, men det finns ändå mycket att läsa för den som är intresserad.
Tills nästa gång vi ses mellan raderna ska Ni ha det så bra. Var rädda om varandra, ge varandra omtanke och vänlighet. Kom ihåg att den närmaste vägen mellan två människor är ett leende!
*
There are not many new articles this edition, maybe the ideas froze in the bitter cold we had this winter, but there still a lot to read for the one who is interested.
Until next time I see You all between the lines I wish You all well! Take care of each other, give each other consideration and kindness. And remember that the shortest way between two people is a smile!
<![if !supportEmptyParas]> <![endif]>
Goaste tankar från /  Kindest thoughts from
<![if !supportEmptyParas]> <![endif]>
<![if !vml]>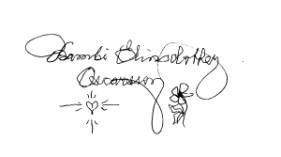 <![endif]>
<![if !supportEmptyParas]> <![endif]>
tillbaka till medlemssidan / back to member site
<![if !supportEmptyParas]> <![endif]>
<![if !supportEmptyParas]> <![endif]>
till webbredaktörsidan oktober 04 – to web editor site October 04